Altes Spital, Arnstadt    Installation, March – September 2014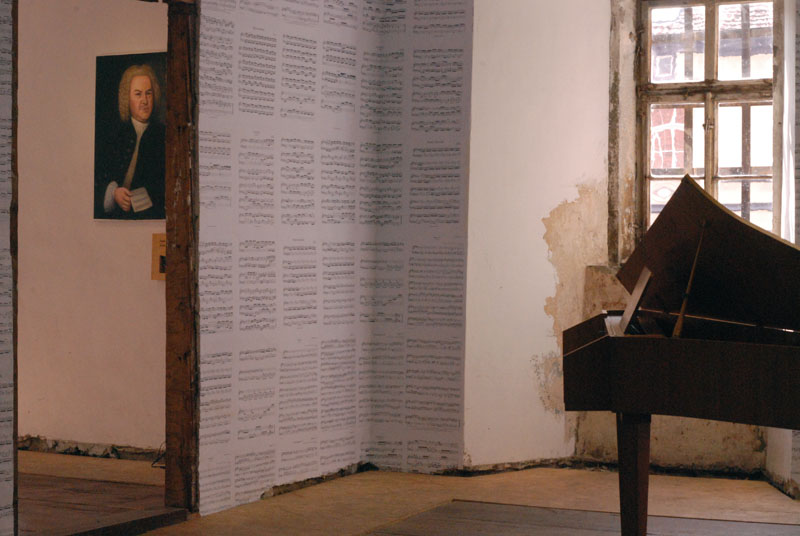 My second work for the ancient hospital "Spittel" in Arnstadt, "15 X Bach", is contrasting 15 professionally crafted copies of the Bach portrait painted by the Leipzig court painter Elias Gottlieb Hausmann in 1746 with 15 interpretations of the Well Tempered Piano. The interpretations are played on cd-players with headphones that are wall-mounted besides the portraits. With the installation we are deconstructing the label Bach, by splitting two main constituents of his perceptual image into aspects. One impuls to do so is given by Bach himself: On the porträt he is holding a sheet of paper showing the notation of a "Riddle Canon". The canon consists of two given voices. The missing third voice has to be found by a partner, in this case the spectator of the portrait. Bach is inviting us to play a game with him! We follow his invitation and create an image of Bach as a potentiality. We send his portrait all the way to China and have it copied. We get the results and have fun with the divergencies. We confront the results with 15 international interpretations of the Well Tempered Piano. We connect the efforts for an objective, precise reproduction with the efforts for a subjective and personal approximation. We see and hear global exchange and endless variety. We percieve the diffrence of image and reflection, of notation and interpretation.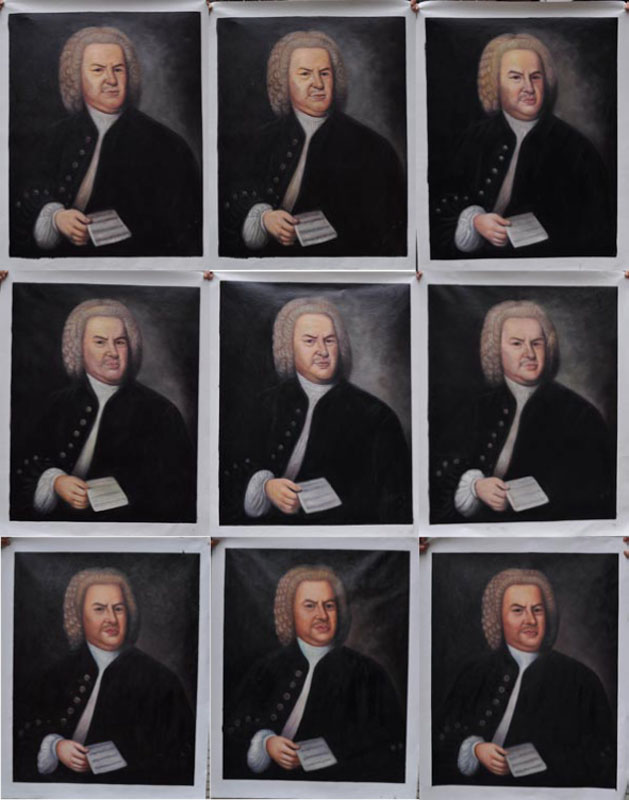 Selection of copies made by: Amazon oil painting Co.,Ltd. Xiamen,Fujian,China Interpretations of the Well Tempered Piano, Book 1 by: Daniel Barenboim, Richard Egarr, Till Fellner, Walter Gieseking, Kenneth Gilbert, Friedrich Gulda, Angela Hewitt, Keith Jarrett, Robert Levin, Maurizio Pollini, Sviatoslav Richter, Andràs Schiff, Martin Stadtfeld, Rosalyn Tureck, Glen Wilson
IMAGES OF THE INSTALLATION
Video filmed and edited by Ronit Tayar: http://www.ronittayar.com/
Copyright of the Bach portrait: Stadtgeschichtliches Museum Leipzig
The project is run by: Kuratorium zur Wahrnehmung der Interessen des St. Georg und St. Jakobs Stift e.V.
Sponsors:
Partners:
Many thanks to Christian and Constanze, Andreas, Pia, Beate, Volker, Albrecht, Konstanze, Holger and all friends in Arnstadt!