Studio-Exhibition
Ruprecht Dreher, Peter Freitag, HC Petersen, Marco P. Schaefer
November – December 2013
The exhibition "Paper Icons" convenes four artists working within the material of paper under the theme "The Icon".
Within the pieces in this exhibition, there are two distinct approaches :
Firstly, the re-combination or subsequent eradication of iconic signifiers using found materials.
Secondly, the construction of signs with an iconic appeal using blank material.Both approaches work with the deconstruction of the icon as a common signifier and the disengagement from its use as a guided association.
A disengagement that gives the recipient a heightened awareness of the allover iconic imprint of our society of the "Iconic Turn" by opening up new spaces of association.
Blattformer (Ruprecht Dreher, Peter Freitag)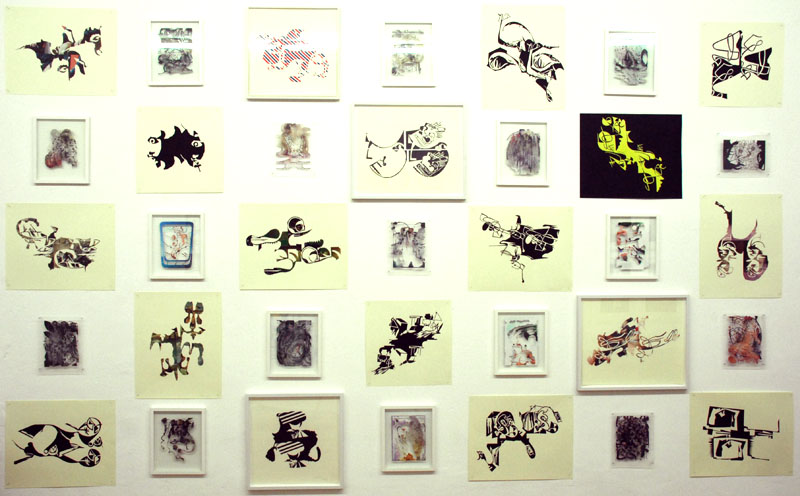 Ruprecht Dreher
Peter Freitag
BLATTFORMER PROJECT
For one entire year (October 26th, 2009 until October 25th, 2010) the two artists Peter Freitag and Ruprecht Dreher took turn to produce one paper-cut every day and published it in the blogwww.blattformer.de.
Form and content were open – development welcome. The only common parameter was to start from apaper sheet with appr. the same size (Din A5-format) and the agreement to alternate daily.
RUPRECHT DREHER
Ruprecht Dreher(*1951 in Gruenstadt/ Pfalz) studied with Joseph Beuys at the Academy of Duesseldorf from 1971 to 1978. He has been living and working in Berlin since 1978. His work has been shown in Duesseldorf.Cologne, Berlin, Leipzig, Milan, Budapest, Paris, San Fransisco, Chicago, Basel, Venice, among other locations. His main artistic endeavors are dedicated to abstract painting, where color and materiality play a central role. He examines how paint interact with ground, form, and body, as a physical power with object-like qualities. His work is based on a dialogic/ dialictic way of making: opposites, contradictions that are selfprovoking: in front of/ behind, old/ new, positve/ negative, brilliant/dull. The surface turns into a topography. His work has been described as a pictorially abstract, but at the sametime a materially concrete, narration.
Peter Freitag
Peter Freitag (*1972) is a digital-analog image-manipulator. In his work he manipulates the pleasantappearance of media images by perforating their promising surfaces and supplying them with open levelsof meaning.His intervetions interrupt the advertisments linear rules of operation and open new spaces for associations.
HC Petersen
Originally from Berlin, Germany, Hans Christian Petersen moved to Australia in 1998 and gained permanent residency status in 2000. Christian is a practising artist, specialising in photography, writing and conceptual art. Over the past twenty years he has exhibited and given readings in Germany, Austria, Portugal, Poland and the U.S.A.
Marco P. Schaefer
Marco P. Schaefer (1967 / Traunstein) studied at the HfbK Hamburg. He lives and works in Berlin since 2009. He is a drawing and cutting virtuoso who is dealing with pumped up visual worlds, informational overflow and hippness, which he ingeniously transforms into contemporary, conceptual entities.